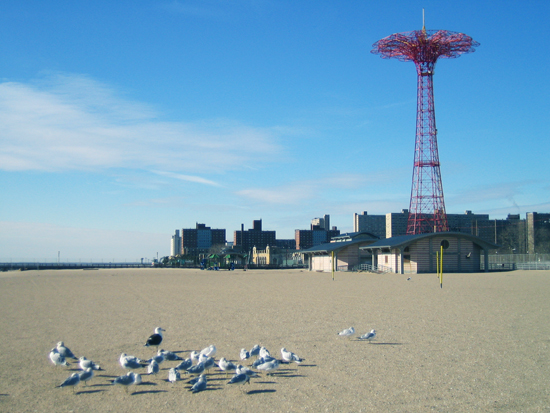 If there exists an end of the world, it's probably Coney Island. Its atmosphere couldn't be more diametrically opposed to Manhattan, but it actually feels just as much like New York as the most famous of the five boroughs – the beauty of this city is exactly that it seamlessly unites its most contrasting aspects. I like Coney Island so much that I sometimes think I'd go there instead of Times Square or Lexington Ave if I could only be in New York for an hour.
It radiates an emptiness that reminds me of Arizona deserts, Los Angeles circa The Black Dahlia and isn't cultivated anywhere outside America. It had stirred my imagination for many years via books, films and photos before I finally encountered it firsthand that sunny day in December 2008 when I was picking up sea shells at Brighton Beach (souvenirs for my friends and family, much less pretty than shells from the Adriatic sea, much different significance) and my hands were freezing. I was alone in the most desolate place in the world, listening to the ocean and suddenly, looking at a flock of seagulls in winter air, I was engulfed by a wave of pure happiness. To this day I remain clueless as to what caused it; for all I know, the only thing I was supposed to be feeling at that moment was confusion (I was leaving New York in a couple of days). It was as if Coney Island cleared my thoughts for the past and upcoming months and one of rare occasions when I truly felt peace.
Coney Island, most famous for its former amusement park, is where Dunkin Donuts are cheaper than in other stores I've been to (and I've been to plenty because why not enjoy Dunkin Donuts with Vitamin Water whenever you can?). It's also the place where school buses go to sleep – in my case, the final convincing factor of Coney Island's magic realism. Even language surprised me: if you're traveling there via subway, chances are you'll only be hearing Russian during the last 30 minutes of your trip.
The bad thing is that Coney Island might not stay for long. Many natives say the time of its prime glory is long gone anyway, but it doesn't mean third parties should be allowed to ruin Coney Island building hotels and condos, destroying its history instead of making renovation plans both the place and people could benefit from. Is there anything flakier and unnecessary than a place being stripped of its essence for nothing?