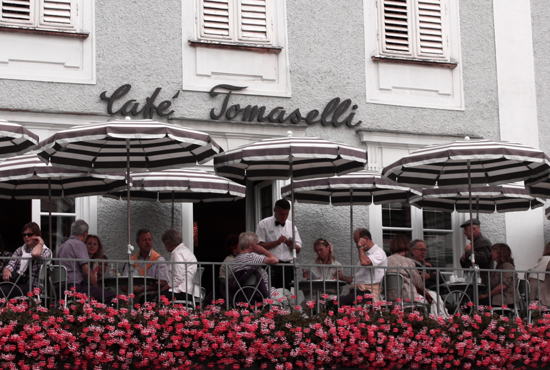 Sometimes cities surprise you and you find the one perfume that suits your want not to be perceived as more serious than you really are where you least expect it. Peach, vanilla, pear, fresh grass and musky rose is how I'm going to remember my recent trip to Salzburg, just as CK Euphoria always recalls memories of opera nights in Vienna. Salzburg is a fairy tale, I can't think of it as real nor imagine what it would be like to live there unless you can survive solely on classical music and Mozart balls (I prefer the "fake", more popular ones to the original ones from Fürst, a blasphemy). Just like 2 years ago I saw a concert at the Great Festival Hall, but I was so overwhelmed with being at the Festival of all Festivals then that I didn't notice how gorgeous the Hall is until my second visit; I tried to compensate for the lost impressions by staying in the building after nearly everyone had left, walking around quiet and empty post-concert spaces.
It's difficult to write about the concerts and operas I see as I don't think anyone can fully understand it unless they've been there, but it's better to share these experiences than keep them shielded behind moleskines' elastic bands. Despite its price, the position of the seat (parterre, row 9, far right side) didn't look too promising at first, but as soon as the concert began, I realized that what I needed to see was ideally unobstructed. Ludwig V. Beethoven's Concerto for Piano and Orchestra No. 4 in G, op. 58 with Daniel Barenboim conducting the Vienna Philharmonic without scores and playing the piano by heart simultaneously; a performance so unbelivable, so out of this world that it could only take place in Salzburg (as the city is, like I mentioned, unreal itself); I saw every single movement of his hands and head as well as facial expressions. Of course, Barenboim has conducted this piece before, but the concert as a whole was structured perfectly, allowing me to stay focused throughout its entire duration. After Beethoven, we heard Pierre Boulez's Notations I-IV, VII – for someone who usually isn't appreciative of contemporary classical music, I enjoyed Boulez's music immensely – and Anton Bruckner's Te Deum for Soloists, Chorus and Orchestra, which was when the Concert Association of the Vienna State Opera Chorus emerged on the stage, probably from the very heavens (the massive, stirring music that followed implied nothing less than that). The far-from-surprising consensus was that Barenboim, who is 67 and has more energy than any other person conductor I've seen, completely stole the show from the superstar soloists (Dorothea Röschmann, Elīna Garanča, Klaus Florian Vogt and René Pape).
After such concerts I usually endure a couple days of absolute misery, the precise reason of which I have trouble defining, but I suspect it has something to do with all the anticipation that builds up in me before the performance (tickets are ordered at least half a year in advance, so I have plenty of time to get excited). Despite knowing that I'd most likely find the musician lifestyle uncomfortable and unfulfilling in the long run, the occasions that connect me to the music world always make me wonder whether it was a mistake to quit playing the violin competitively at 17 (if I went on to study it at university, I could end up playing on the exact stages I can only admire now). However, this time in Salzburg, my head wasn't clouded with nonsense. I thought about my new perfume, the Japanese restaurant with the best yakitori chicken, the smell of rain in the air, my mom's company, the Mirabell gardens and the river, leaving no room for what could impact me in a way I wouldn't benefit anything from. Somehow Salzburg always makes me very happy.
(For those interested, ORF 2 is going to broadcast the concert on Sunday, August 1st, at 11:05)