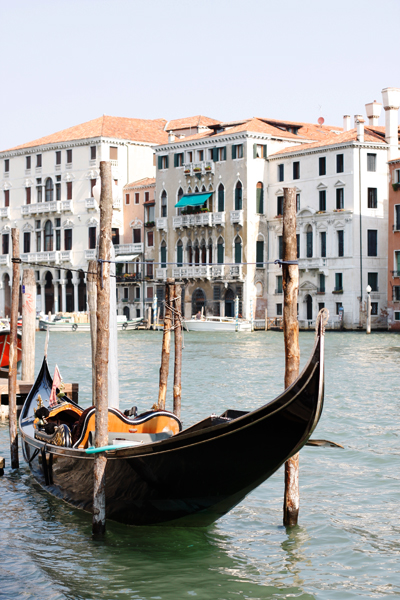 The basis for my ideal city is Venice, Venice of parallel universes, flowing queens and the smell of violin polish I always sense around Rialto. Actually, Venice is more than a basis: the only element my ideal city would differ from Venice in is boulevards like those of Rome. Venice doesn't have boulevards for it's too dense, its houses and streets crammed together so tightly that they encage high humidity and summer fevers, making them almost endemic. Rome respires in a similar way, but as it's spread across seven hills, the air has more space to unfold. Boulevards are necessary for the moment when you're the only person to appear there during siesta and it depends on the confidence of your walk whether you wandered astray by accident, your brain boiling from the heat, or your promenade was intentional.
My favorite child of Venice has always been the sea. I feel particularly connected to cities that know how to integrate it into their structure – for example, Venice only has maritime public transport – but where it's not possible to swim. Beaches are beaches, cities are cities. Two different worlds and purposes. I feel that adding another dimension to a place is the only function sea should fulfill. New York is much the same and Barcelona's beaches are not located in the city center either.
Venice also serves as a model for my ideal city because it continues to elude me. Belgrade and New York, two other cities I can see myself living in, are easy: New York accepts the newcomers immediately, it's almost as if it wants people to want it, a flirtation: you and the intoxicating lights of Times Square, you and strangers giving you impromptu directions on the subway while inconspicuously scanning your appearance for something to compliment on. New York knows it's not there to please you, though, and it teaches you you'll have to fight, but it'll make sure you get a chance to prove your worth.
Venice, on the other hand, is none of that. It never thinks about its people – no matter natives or tourists – instead, it's completely devoted to a fascination with itself that's not as vain as it's mysterious. Venice won't tell you anything, it'll make you dig deeply for whatever might help you understand its palaces and pillars. It considers it enough to just be and I like that. I'd never want Venice to give up the secrets it's guarded for centuries. This is why perhaps Venice will be the most ideal once it has disappeared under water.